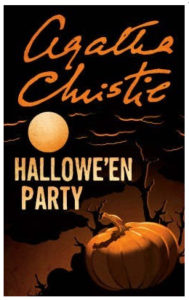 Halloween is finally upon us!  A holiday that I know many bookworms enjoy; especially if you are like me and enjoy Stephen King or any gothic/horror-inspired works of fiction!
I have been reading Agatha Christie's, Hallowe'en Party, to help celebrate All Hallow's Eve.  This is Hercule Poirot #36 – so, closer to the end of the 40 book series.  It was originally published in November 1969.  I love Christie's writing.  I find her books relaxing and comforting.  The standard mystery format, the who-dunnit, that has been replicated so many times feels so genuine in her grasp.  Personally, I enjoy Miss Marple a little more, as I love her character and obviously, can relate a bit more to her.
In this book, a murder takes place at a children's Halloween party, the victim herself a 13-year old girl.  I found the age of the victim a bit surprising; to my recollection, I cannot recall if someone so young had ever been the victim in a Christie story before. I am hoping to finish this by the end of the week!
A series similar to this is Jane Haddam's, Gregor Demarkian series.  Repeatedly in the series, Haddam refers to her protagonist as the Armenian-American Hercule Poirot and indeed, I do believe he was greatly inspired by Christie's work.  Haddam's mysteries, although written decades later, stay true to the format and feel of Christie's work although the stories aren't quite at the same level in my opinion.  They seem a little more forced and vary as far as quality the series over.  One thing I do love about this series though is that the majority of them are 'holiday' mysteries.  I just love mysteries set around holidays!  I'm not sure why, I have just always been a sucker for them!
What are some holiday mystery books that you could recommend?  I am always looking for more!
Happy Haunting to all!